The Next Big Thing: Megaworld's Capital Town in Pampanga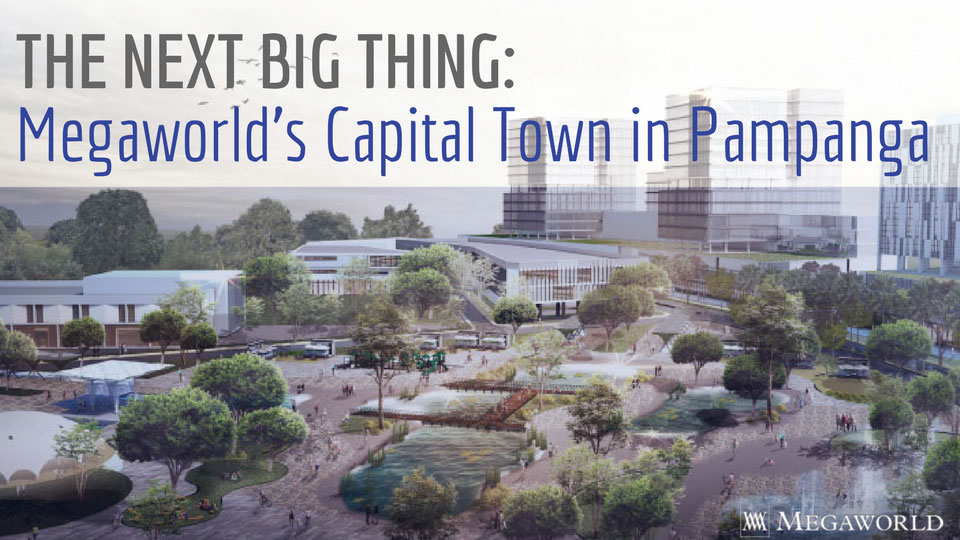 Pampanga is known to be the Culinary Capital of the Philippines. The name "La Pampanga" was given by the Spaniards who encountered locals living along the banks or "pampang" along the river, hence the name Pampanga. Its creation in 1581 makes Pampanga the first Spanish province in Luzon Island.
The vibrant province of Pampanga is located in Central Luzon whereby it prides itself on its rich historical significance and vigorous culture. Who would forget the devastating eruption of Mt. Pinatubo? As a Filipino, especially to the residents of Pampanga who were greatly affected by that unfortunate natural disaster, they have learned how to move on from that misfortune and rose above the challenges.
San Fernando, the capital of Pampanga, is also famous among foreign visitors as well as Catholic Devotees for its yearly Easter reenactment of the crucifixion of Jesus Christ. And since Christmas is just around the corner, lanterns made by skilled residents of Pampanga are much in demand from buyers.
Why Should You Consider Living in Megaworld's Capital Town Township?
Imagine a life where everything you need is just within your reach? This is what Megaworld intends to accomplish that's why they are known for creating townships in different parts of the Philippines which they think has a potential for economic growth.
You might be wondering why you should even consider living in Pampanga? Megaworld has expressed its intention to establish their first township in Central Luzon called Capital Town. This will boost San Fernando, Pampanga's status as a major business hub.
Metro Manila is congested. Traffic is the most common headache in the metro and has been a life-long issue for so many years. Pollution is all over the place. But if you still want to enjoy a suburban lifestyle and still earn your high paying job in the city, then Pampanga might be the place that you are looking for to invest in. Not only having less traffic compared to Metro Manila, you can reach Pampanga through major thoroughfares such as North Luzon Expressway (NLEX) or Subic-Clark-Tarlac Expressway (SCTEX), making it easier for travelers and commuters to go to their work in Metro Manila.
If you are still not convinced, why don't you try to live and work in Pampanga? Today, Pampanga has become one of the most sought-after residential and commercial locations in Luzon. With the new venture of Megaworld in creating Capitol Town, there will be a lot of job opportunities waiting for you.
If you are an Overseas Filipino Worker and looking to invest your hard-earned money in real estate property, why not invest in Pampanga? Clark International Airport is located in Pampanga, an international gateway of the Philippines via Northwest of Manila. Aside from beating the traffic in the Metro, Clark International Airport is not as congested as Ninoy Aquino International Airport. Just imagine that you are coming from a long and tiring flight from the country of origin to Ninoy Aquino International Airport (NAIA), and then you have to travel again to your house in Quezon City but got stuck in traffic along EDSA. It's such a horrible and unacceptable experience where the very reason you come home is to relax and enjoy your time with your family and friends.
If you're food enthusiasts or has a big interest in cultural heritage, Pampanga is known for its delicious cuisine like the famous sisig, historical destinations, valiant heroes, and giant lanterns. The province of Pampanga takes pride as the country's premier cultural and business hub outside Metro Manila.
Whoever said that living in the province is boring may have never fully maximized living there. Because you'll be surprised what you can get when you settle down in Pampanga. And we tell you, the fun never stops in that province. Apart from the lively nightlife in Angeles City, Pampanga also offers adventures or attractions that are perfect for family bonding as well as bonding with friends. It houses exciting adventure parks like the SandBox in Porac, Fontana Water Park in Clark Freeport Zone, and Dinosaur Island in Mabalacat. Pampanga has festivals that local and international tourists are looking forward to – The Hot Air Balloon Festival in Clark and the Giant Lantern Festival in San Fernando are just some of the examples of what's in store for you when you decide to live in Pampanga. And what better way to convince you by experiencing the Giant Lantern Festival, also known as Ligligan Parul this December as Christmas season is fast approaching.
So, if you are looking for a peaceful, safe and practical life, you should consider living in Pampanga – a perfect place to raise a family.
Career & Business Opportunities in Capital Town Township
Manila is known to be the business capital of the Philippines. A lot of investors or businessmen set up their companies in Metro Manila specifically in Makati City. Being the ideal venue for setting up businesses, a lot of people from countryside tend to explore employment possibilities in Metro Manila.
With a passion for building complete communities, Megaworld will now bring the same urge in establishing Capital Town to boost San Fernando's status as a major business hub. Think about what McKinley Hill township has done to Taguig City, this is exactly what Megaworld envisions to do in San Fernando.
The 35.6-hectare property supported by a 10-year development plan will integrate residential, office, commercial, retail and institutional sections. This will definitely overturn the lives of the people living in Pampanga and of those who are planning to invest in real estate.
Being considered as a business hub, this will open new doors to the locals as it will create thousands of jobs for the potential pool of skilled "Kapampangans." Meaning, they do not need to go to Manila to look for a better job because it is already in their hometown and there's no need to be away from their loved ones. Additionally, Capital Town will also help encourage those who have found jobs in Metro Manila to go back to their provinces because there are already job opportunities waiting for them.
The purpose of creating the Capital Town is to support the strong, inborn entrepreneurial nature of Kapampangans by giving them with a venue to intensify their craftsmanship, creativity, and passion. Moreover, Megaworld also saw a massive supply of potential talents for the business-process outsourcing (BPO) industry. With this aggressive infrastructure development in the region, as early as now, Megaworld has received several inquiries from top BPO companies interested to set up operations here in the township.
For those people who would like to buy commercial properties or to those business enthusiasts, Megaworld will also build the Shophouse District. This will serve as the first product in the township where they will be selling commercial spaces at Capital Town.
Since Pampanga is known to be rich in history and cultural heritage, the Shophouse District theme will have a 1950s vibe. With this type of design, it is expected for Pampanga's economy to boom due to foreign visitors, investors, and tourists. And since Pampanga is also known for producing local delicacies, Shophouse district will showcase the best products of Pampanga in support of the Kapampangan's entrepreneurial spirit.
Through the development of Capital Town, Megaworld is expecting that San Fernando, Pampanga to become the North's growing central business district that will definitely provide careers and multiple jobs to increase the living standards and help the people of Pampanga as well as the neighboring towns as compared before.
Cost of Living in Capital Town Township 
Between living in Metro Manila or Pampanga, the latter is probably the cheapest among the options. Pampanga is located Northwest of Metro Manila. And since it is located in the countryside, the cost of living is somewhat cheaper than living in the metro.
As mentioned earlier, Manila is congested with traffic. When a certain location is congested with traffic, you tend to stay longer than usual in the road with your car engine on and fuel is running to support your car's power. With Pampanga, there's no traffic. And with the presence of SCTEX and NLEX, people traveling through Pampanga can now travel faster and safer.
They say living in the countryside is very practical and cheap. The cost of living is low because the location does not require high rentals for business entities. Some businesses are even located in their houses like eateries, where Kapampangans are famous for. If the rental is high, the prices of the products or services they are offering will be high as well.
If you have been to provinces, you will notice the local's simple life. You will notice a big difference in terms of lifestyle between people living in the provinces and people living in major cities like Metro Manila. As what they usually say, living in Manila is high maintenance.
Not only that, since Pampanga is starting to develop its economic growth through the help of real estate developers like Megaworld, the properties that are for sale is definitely cheaper compared to properties in Metro Manila. Soon, you will reap the seeds that you sow once Capital Town is fully developed.
Getting a property as early as now is definitely a good investment – a chance that you shouldn't miss. A few years from now, Megaworld will start to offer commercial lots for sale in San Fernando, Pampanga, which is a good place to place your hard earned money.
Why Invest Your Money in Capital Town Township? 
The Capital Town in San Fernando, Pampanga is expected to be the next central business district of the North. Megaworld is known for building a township that promotes "Live, Work and Play". It is a self-sustaining community where everything is within your reach.
Since Pampanga is proud of its cultural heritage and history, the design of the Capital Town is inspired by Neoclassical Architecture. This design will complement the very essence of Pampanga's culture all throughout the years ever since Spanish colonization. The state-of-the-art structure and design of the Capital Town will commemorate the intimate and vibrant city of San Fernando. This structure will be a reminder to the locals of the quaint memories when the economy of Pampanga started to prosper.
When the news broke that Megaworld will develop a property in Pampanga, some advocates of historical advocates have raised their concern on what's left in the almost century-old structure of Pasudeco. That's why to commemorate Pampanga's history, Capital Town will have a museum and tribute statues of those who established Pasudeco. Pampanga Sugar Development Co. or Pasudeco was the first sugar central in the province that was financed by Filipinos. This center was one of the biggest business sources that helped boost the financial growth of the capital. For the Kapampangans, the Pasudeco sugar mill is a testament to their resiliency especially when it withstands the havoc of the Mount Pinatubo eruption.
Pampanga is also home to Clark International Airport. Although the airport is not as busy as Ninoy Aquino International Airport, Clark serves both domestic and international flights with over 15 flights per day. Philippine Airlines started operating its flight to Seoul this year and intend to add more flights before the end of 2019.
You see, although Pampanga is a province, it is a well-developed province where everything is readily available to you and is continuing to be more developed with the help of Megaworld's Capital Town township. And with the rise of Capitol Town, more foreign investors will be attracted to further their company's reach in the Philippines by setting up their operations in Pampanga.
By developing Capital Town, San Fernando City will be considered as the next central business district of the North. The Capitol Town township project is Megaworld's contribution to promote development in the countryside, boost economic development in Pampanga and at the same time preserve and promote traditions and values of the Kapampangans to the rest of the world.
Have you ever considered living outside Metro Manila and invest in commercial lots for sale in San Fernando, Pampanga? If your answer is yes, you may consider San Fernando, Pampanga, a developing city that gives you the same experience as the best cities in the metro but only at a fraction of the cost.
To learn more about Megaworld Fort's projects and townships, you may also read "A Guide to Living in Mactan Newtown: Here's What to Expect."