Domaine Le Jardin – Lots for Sale
AVAIL OF OUR SPECIAL PROMO DISCOUNT UNTIL 
OCTOBER 31
ONLY
Exceptional Taste, Wonderful Value
Are you looking to move to an exceptionally detailed and wonderfully exquisite venue? Then it might be time to consider a move to the wonderful Domaine Le Jardin by Megaworld – Global Estate. A part of the Twin Lakes township, this offers the perfect way for you to enjoy an up and coming location that puts passion and precision ahead of anything else.
Not only is this a location that makes it extremely easy for you to blend into a unique new location that is growing and improving all the time, but it's the perfect first few steps into a new world entirely. With the class and caliber of homes here, you can enjoy living in exquisite quality villas that make it easy for you to just settle down and have some fun.
Beautiful amenities placed in a location that is all about peaceful privacy ensures that you should have no problems whatsoever buying into the Domaine Le Jardin. Thanks to the value and the style of the region, it's becoming increasingly easy for people to get involved in a part of the world that offers an ample escape from typical modern living.
The Perfect Take on Exclusive Living
Without a doubt, one of the most challenging parts of modern living today is being able to deal with the lifestyle we are all expected to live. Fast-paced utterly chaotic and spending the majority of our time working; it's the modern experience. However, when you think you've managed to earn a bit of respite from the challenges of modern life, it might be time to consider heading to the Domaine Le Jardin.
As the perfect way to find an exclusive lifestyle that allows you to break free from the prying eyes of the public like never before, this makes escaping to a location that prizes exclusivity over everything else a sensible, almost obvious, decision. Indeed, this location makes it incredibly easy for you to move into a venue that has the natural beauty of the most breath-taking parts of the world.
By making it increasingly easy for you to embrace that and to enjoy a life that is purely your own, the Domaine Le Jardin will make changing your life so much simpler. The exemplary style is vital and with this, you can get to enjoy a layout that simply takes ones' breath away.
Architecture to Make the Heart Sing
At the Domaine Le Jardin, you get to live in facilities that are the true apple of the eye of the Twin Lakes project. This is one of the most spectacular ways for you to enjoy the world of high-end and stylish architecture that resonates.
With the help of this project, then, you can make sure that you are appealing to your architectural tastes and passions. This makes it so easy for you to just settle into a venue that makes you feel safe, while offering the perfect completion of your hard work to get to this point.
Indeed, the whole layout of the homes allows for the owners to feel as if they have truly arrived. With a dedicated style of household that look to combine functionality with flash design and a welcoming format that truly feels like your own personal paradise, the Domaine Le Jardin makes enjoying spectacular buildings so simple.
If you are looking to find the perfect place to finish up in after a hard-earned life of achievement, this project may just be for you. With household styles that are undeniably beautiful, paradise awaits you here.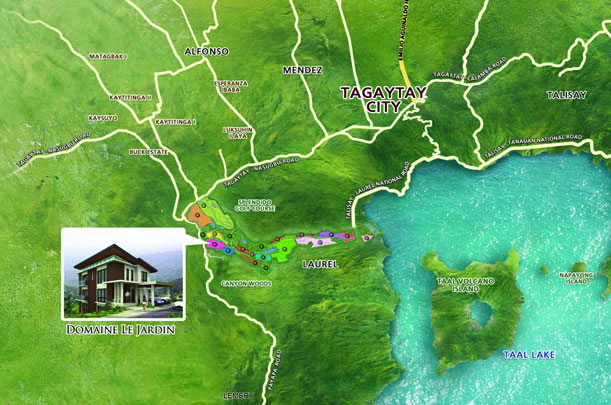 Join an Up and Coming Community Today
With the help of the Domaine Le Jardin, you can make sure that are moving into an upwardly mobile community that can truly feel like home in no time. With an atmosphere that permeates over the whole region, feeling like you are truly at home has never been as simple as it is here.
It's because of this that you can easily enjoy and get on with a far more community-based feel than ever before. In a location such as this, that helps to bring everyone together, it feels easy to be part of something special.
With over 76 hectares of land to be enjoyed, you can take part in some of the most exquisite subdivision lots and amazing, breath-taking landscapes around. With amazing, exclusive amenities that make up the area, too, this is like a personal paradise for you and your neighbors.
This makes it easy for you to buy into a way of living that allows you to enjoy the considerable fruits of your labors. With a development that places nature at the top of the list, too, this makes it easy to join a thriving community with natural appeal.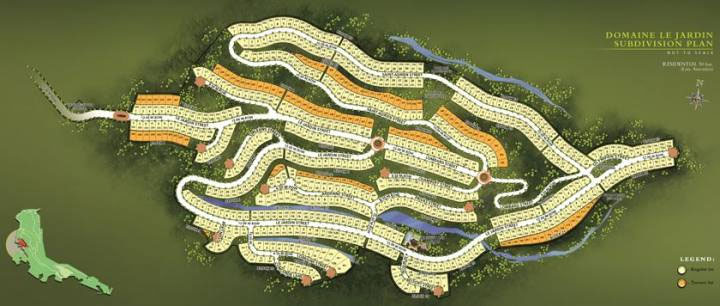 Find A Location for Life with the Domaine Le Jardin
Thanks to the means and the standards expected by those who run the Domaine Le Jardin, you can expect to find a stunning property at a dream-like location of your choosing. Whatever matches your demands and ambitions, you'll find that a property here exists to help you live in the quality of home that you feel is a fitting tribute.
Indeed, with the help of this friendly and welcoming vibe that hangs around the whole Domaine Le Jardin, you can feel as if you are already a long-lasting member of the community. With an open and friendly community feel, this can become the place that you wish to never leave once again.
Add in the wonderful weather, with an all-year round cool breeze that allows you to enjoy your success first-hand, the Domaine Le Jardin makes high-end living a formality. Using this location, you can treat yourself to a true sign of your hard work and success over the years that it took you to reach this point.
Does this sound like the kind of paradise you've been searching for? Then, invest in Domaine Le Jardin today!